IGNORANCE IS NO BLISS; CHILDREN'S EDUCATION IS A PRIORITY SAY SORGHUM FARMERS IN MALI
FINANCIAL TURNAROUND IN A FARMER'S LIFE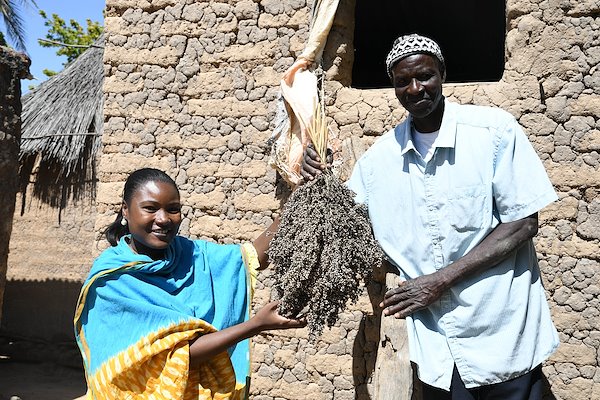 If you thought education is expensive, try ignorance says a popular quote. Farmers in Mali whose parents could not afford to send them to school know this too well and they do not want history to repeat. Farmers like Timothée Goita says that if it was not for interventions that improved his economic status, he would not have been able to enroll his children in school or provide them three square meals a day. The farmer says that project interventions enabled him to double yields from improved varieties, gain access to storage facilities and avail timely credit through the warrantage system saving him from selling his harvest at throwaway prices during a glut. 
Following the success of the warrantage system approach a few years ago in the AGRA-funded micro dosing project, the Feed the Future/USAID-funded Africa RISING's large-scale diffusion of technologies for sorghum and millet systems (ARDT-SMS) project replicated it with great success. Out of the 34 innovation platforms—that were initiated in Sikasso and Mopti regions—three were introduced to the warrantage system by the project. Hundreds of farmers like Timothée, who are part of farmer organizations, have benefited through the system that links them directly to markets and financial institutions.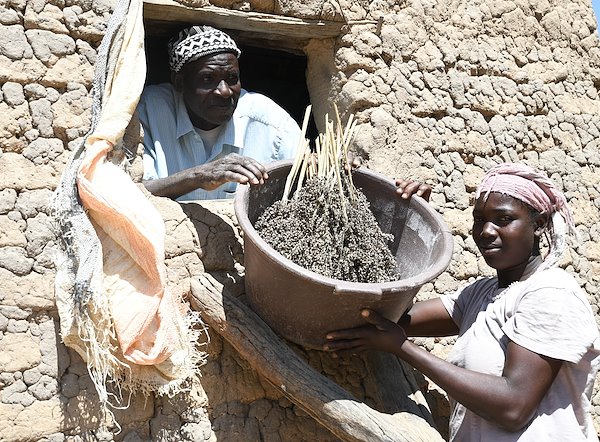 Timothée Goita proudly showing his harvest
For Farmer Timothée Goita, an active member of one of the innovation platforms in the Sikasso region, it all began with the adoption of a new high-yielding and drought-tolerant improved sorghum variety, Tiandougou coura, developed by Mali Rural Economy Insitute (Institut d'Economie Rurale ) in collaboration with ICRISAT.
"During the drought years, I barely harvested 600 kg/ha of the local variety. The improved variety, that I got from the head of the agricultural sector of my region as part of the ARDT-SMS project gave me a yield up to 1500 kg/ha," he says.
Post-harvest, a microfinance arrangement through the warrantage system helped him to sell his produce at a good price and at a convenient time.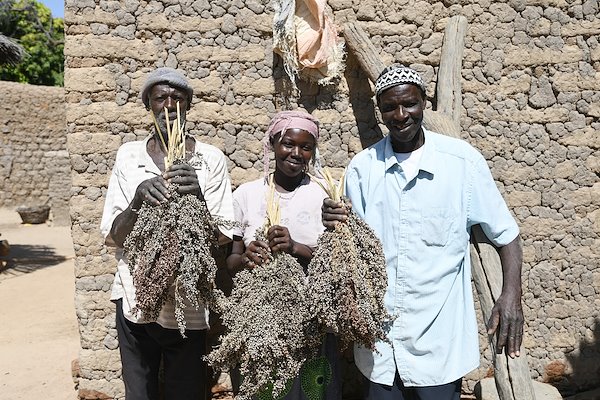 Type an optional photo set caption
"The main advantage of the warrantage system is food security. It allows us to sell our harvest for better prices. Thanks to the initiative, I bought an ox to plow the field and I built a new house with a sheet metal roof in the town of Yorosso located a few kilometers from my village. My children will soon be moving in to pursue their studies in Yorosso and they will not have a problem finding accommodation," explains Timothée, who lives in Kafona village, near Yorosso, Sikasso region.
Recalling how it was like before the project interventions, Timothée says, "I had to either work as a laborer in neighboring fields or migrate to another city. Even then, I was able to meet only half of my family's annual food needs."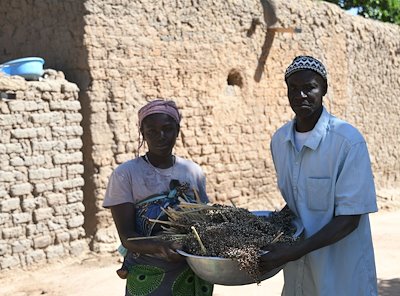 "Now I produce enough food to feed my family for the whole year. I can afford more than three meals daily for my children. My family eats millet and sorghum-based foods alternating with maize, cowpea and other products to bring in more diversity in our daily diet. I sell part of my surplus to buy different food and I can pay for the school fees of my children on time", says Timothée.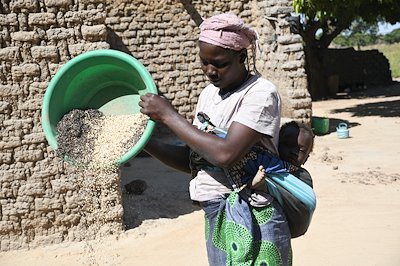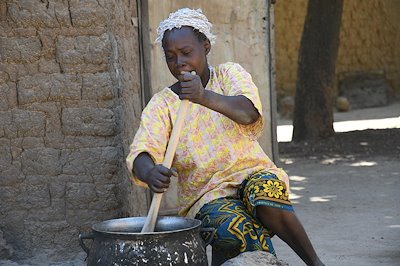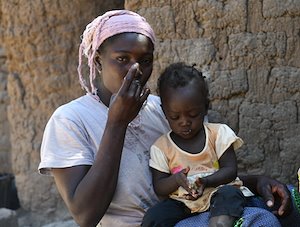 Photos by N. Diakite, ICRISAT